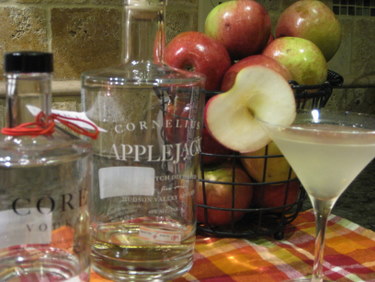 The recipe below is from Gotham Bar & Grill, by way of Tuthilltown Spirits. I substituted Harvest Spirits's Core Vodka and Cornelius Applejack instead of Tuthilltown's Heart of the Hudson vodka and Busnel Calvados.
I don't need a quart of spiced syrup, and so adjusted the recipe a bit.
1 c. simple syrup
4 cloves
a pinch of fennel seed
1/4 tsp. nutmeg
1 cinnamon stick
Honeycrisp Apple Cocktail

Recipe courtesy of Gotham Bar & Grill

1.5 oz. Heart of the Hudson apple vodka
0.75 oz. Busnel Calvados
0.5 oz. spiced simple syrup (recipe follows)
0.5 oz. fresh lemon juice

Shake all ingredients with ice and strain into a cocktail glass. Garnish with an apple chip.

1 qt simple syrup
3 cinnamon sticks
7 whole cloves
1 whole piece star anise
1 whole piece nutmeg, crushed

Add spices to simple syrup. Bring to a boil and remove from heat. Let steep for 30 minutes. Strain spices from syrup through cheesecloth. Refrigerate syrup.